Tyler Dennis Joins Pike Street Capital as Senior Analyst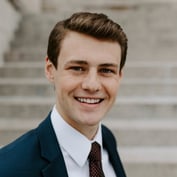 Seattle, Wash., Nov. 2, 2022 – Pike Street Capital (Pike Street) announces that Tyler Dennis has joined the team as Senior Analyst. Dennis will participate in all transaction and sourcing activities, including analysis of new investment opportunities, financial modeling, and industry research.
Dennis joins Pike Street from Deutsche Bank, where he was an Investment Banking Analyst in the organization's Global Industrial Group. He brings experience with complex financial modeling, statistical analysis, and due diligence in many of Pike Street's target investment sectors. Dennis earned a BBA, Finance and a BS, Mathematical Statistics from the University of Iowa, where he graduated with high distinction. He also holds an MS in Statistics from the University of Iowa.
"Tyler is a great addition to Pike Street," said Ed Whatley, Partner. "He brings a complementary skillset and his drive and demonstrated ability to jump in and take ownership of all his endeavors is really impressive. We're thrilled to have him on the team!"
Pike Street invests in middle-market companies with leading market positions, strong management teams, and discernible growth drivers. The firm targets sectors serving professional customers and B2B growth where it has relevant investing and operating experience, including industrial technology, specialty manufacturing, distribution & logistics, and business services.
Dennis will work out of Pike Street's Seattle, WA office.
About Pike Street Capital
With a combined 75+ years of investing and operating experience, Pike Street partners with management teams to build and execute a strategy for future growth. Pike Street Capital was co-founded by Paul Caragher, Dave Dandel and Ed Whatley. More information is available at www.pikestreetcapital.com.