QuickBox Fulfillment Appoints Irene Scharmack CEO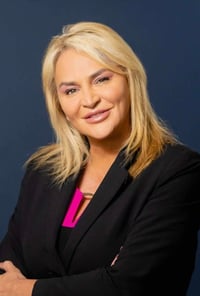 Denver, Colo. – December 13, 2021 – QuickBox Fulfillment ("QuickBox"), an omnichannel fulfillment and supply chain solutions provider announces the appointment of Irene Scharmack as Chief Executive Officer (CEO).
Scharmack brings an extensive background in the logistics and supply chain industry, where she has a proven track record of driving business growth, building high-performing teams, and ensuring client satisfaction. She has held leadership roles at GEODIS, Network Global Logistics Supply Chain Services, The Complete Logistics Company, and was most recently President and Chief Commercial Officer of Impact Fulfillment Services in Rialto, Calif.
"I am excited to jump in during this pivotal time for QuickBox," said Scharmack. "There is so much opportunity in the fulfillment and logistics space, and QuickBox is in a great position to serve the market. I am particularly impressed by the investment the business has made in its facilities, technology, and team. I look forward to building on this progress."
Scharmack's move to QuickBox follows its recent acquisition of Swan Packaging Fulfillment, the addition of which expands the footprint of the business to three locations, including Denver, Colorado, Atlanta, Georgia, and Wayne, New Jersey. The integrated company offers fulfillment, packaging, vendor management, and supply chain integration services to D2C and B2B businesses, delivering high-accuracy order fulfillment and on-time delivery to customers across the US and the world. QuickBox has been named to Inc. magazine's list of fastest growing private businesses for three years in a row.
"Irene is another great example of the caliber of talent we're bringing to QuickBox," said Paul Caragher, Partner at Pike Street Capital. "She has a wealth of industry experience, demonstrated success driving results, and her passion for excellence is contagious. We're confident she'll provide the level of leadership needed to meet - and exceed – the expectations of current and future clients."
About QuickBox
Pike Street investment, QuickBox, is a trusted third-party fulfillment partner of D2C and B2B brands, delivering a breadth of services to help their clients focus on what they do best – grow their brand. QuickBox takes the burden of backend logistics off their clients' hands, providing accurate, on-time order processing and delivery to delight customers and keep them coming back. Robust data collection through QuickBox's proprietary technology supplies clients with meaningful insights into their business, and three strategically located warehouses ensure fast time-to-home - wherever customers are located.
More information is available at www.quickbox.com.